LifeCharge is an easy way to quickly enter the events from your day, and see how they affect your outlook over time.
Like analytics for your life, use what you learn to maximize the positives and eliminate the negatives.
It's your life, see how it's is adding up.
The beauty of this app is that you start to look for, and notice all the good things you would usually ignore. Keep at it, and your thought patterns will change for the better.

MightyUke, Australia

This app is everything you need to put off tired sensation of life and put on a smile in your face to continue life's road

Priscilal3, Brazil

It makes keeping track of my days a cinch, the UI is beautiful and minimalistic but doesn't feel like it's lacking anything.

jamiedtatum, United States

It is a great way to log your day and see how many good things occur. Doing this has really changed my outlook, reminding me how much more good than bad there is in life.

Idesofjune, United States

The beauty of this app is that you start to look for, and notice all the good things you would usually ignore. Keep at it, and your thought patterns will change for the better.

MightyUke, Australia

I love this app. I've been using this app everyday for a month now and really enjoy it. It's nice to be able to look back and review what's happened to me.

Remingtonmare, United States

Fantastic, quick easy journaling app. Love the simplicity that comes with this app! It's not gaudy or has a lot of flashy, unnecessary graphic info.

Gurpfrut, United States

I love it. This app is simply amazing. If you're thinking about downloading it, DO IT!

Camryn, United States

Just what I was looking for: to find patterns in my ups and downs. Thanks.

AppLuvR, United States

Great little app. I always intend to document my days but never do. It's fun, it's simple, and quick. Thank you!

jaided79, United States

I like this app. It's a cute concept, and it's very easy to use.

eleventh hour, United States

Simple and Elegant. Great App! I'm using it to keep track of my emotional wave on a daily basis. The UI is simple and elegant as well. Highly recommended!

Byron Pascual, Philippines

Awesome. This is a great ap. Keeps track of my mood.

Alxndrflrs, Philippines

Great little app. Werkt goed en help positief naar je zelf te kijken. Door simpele ui is het makkelijk om snel een event in te voeren en te waarderen.

Mrk_iii, Netherlands

Leuk. Als ik wat vervelende dingen meemaak op een dag kan ik best een tijd van slag zijn, maar als er dan iets goed gaat wordt dat overstemt door al het mindere.

Frankeleyn, Netherlands

If you want to remind yourself of all the good stuff, that is happening in your life, this app is exactly what you need.

Berlinaise, Germany

This app is really nice for tracking my achievements and my missteps. I use it daily.

Zo67, United States

Nice Work! Love the concept of the app, going to be using it to track food, exercise and mood in a simple way

P. Geraghty, United Kingdom

I love this! This app is great for capturing moments on the go…jot down events/feelings (positive or negative) as they happen, and not just at the end of the day.

meeehuser, United States

Very nice app. Clean, simple and useful…The app is great.

Brenoj, United States

Great Concept! I'm using it to track what happens in my day and how that affects my mood.

A. VanEveren, United States

Whoa. This is an awesomely awesome app. Awesome

Candyiris, United States
It's your life, see how it's adding up.
Use Life Charge to easily track the positive and negative things that have happened in your life today, this week, or this year.
Once you know what is making you happy or unhappy, you can learn from the past, and repeat the positives and work to prevent the negatives.
Track your ups
Got a call from a friend
Got a compliment from someone you respect
Took a step toward achieving a goal
Did something enjoyable
Met someone you like
Helped someone with a problem
Cheered up a friend
Got an interview for a great job
Track your downs
Made a mistake
Said something you regret
Missed an event you wanted to attend
Got into an argument
It's like Life Analytics.

The concept is to enter the positive and negative events from your day, and see how they add up.
Having this information can help you keep perspective on things, or re-celebrate victories you may have forgotten.
Let's say it's Friday, and you are having a terrible day.
You come home at the end of the day, and you may be feeling like you had a terrible week. But you may have forgotten all the great things that happened on Monday, Tuesday, and Wednesday. Overall, you had a great week.
Let's say you start to notice that every Tuesday you have a tough day.
Why is that? Is there a common set of things that are making Tuesday's bad? Once you notice the trend, you can start thinking about how to make Tuesday better.
You might want to share how your day went with a close friend.
You can select the events you want to share, and send them an email or text. Or you can share to facebook or twitter as well.
Customers Love LifeCharge
We think LifeCharge might change your outlook, or maybe your life.
Like these some of these people…
How to use
Tap the + to enter a positive event
Tap the – to enter a negative event
Tap the battery to see all your past positive and negative events
Tap the battery again to hide all your past events
Swipe the bar chart to see totals for previous weeks
Tap the bar chart to change from daily/weekly/monthly view of totals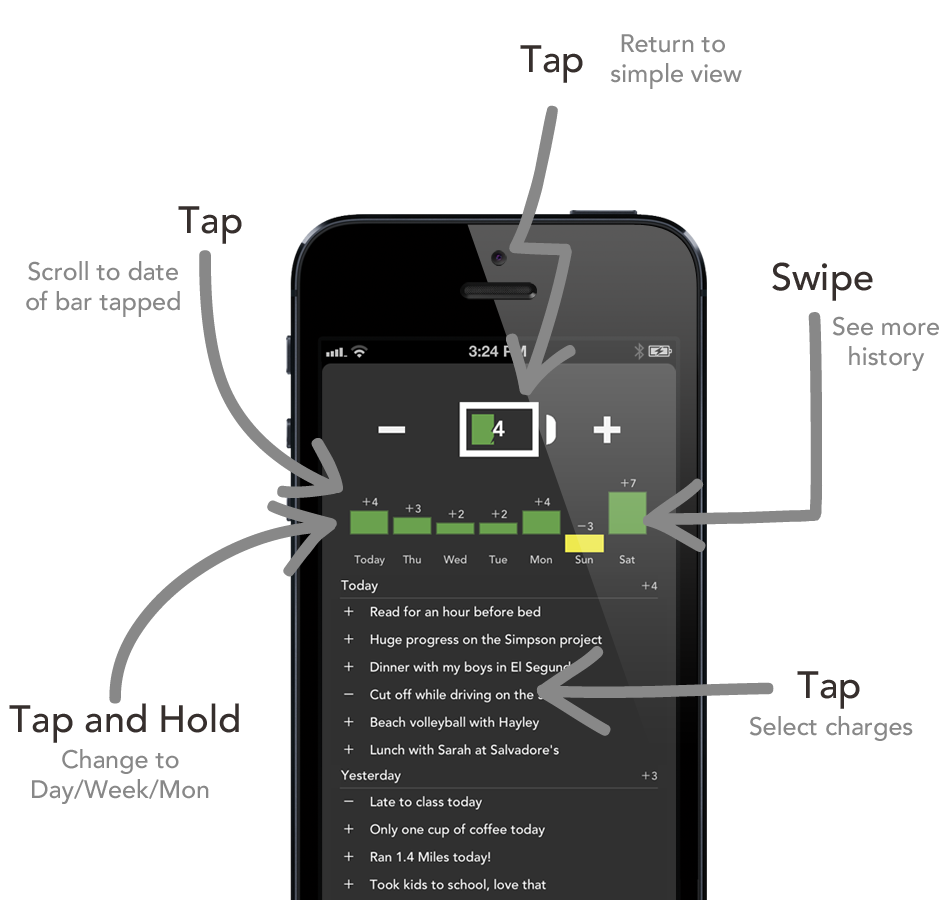 You can change the 'size' of the positive or negative, to reflect that all events are not equal in size. A large is +/-9, a medium is +/-3, and a small (the default) is +/-1.
You can change the date or time of the event, in case you want to enter an event in the past
You can share events by selecting them (as many as you want) and tapping the share button.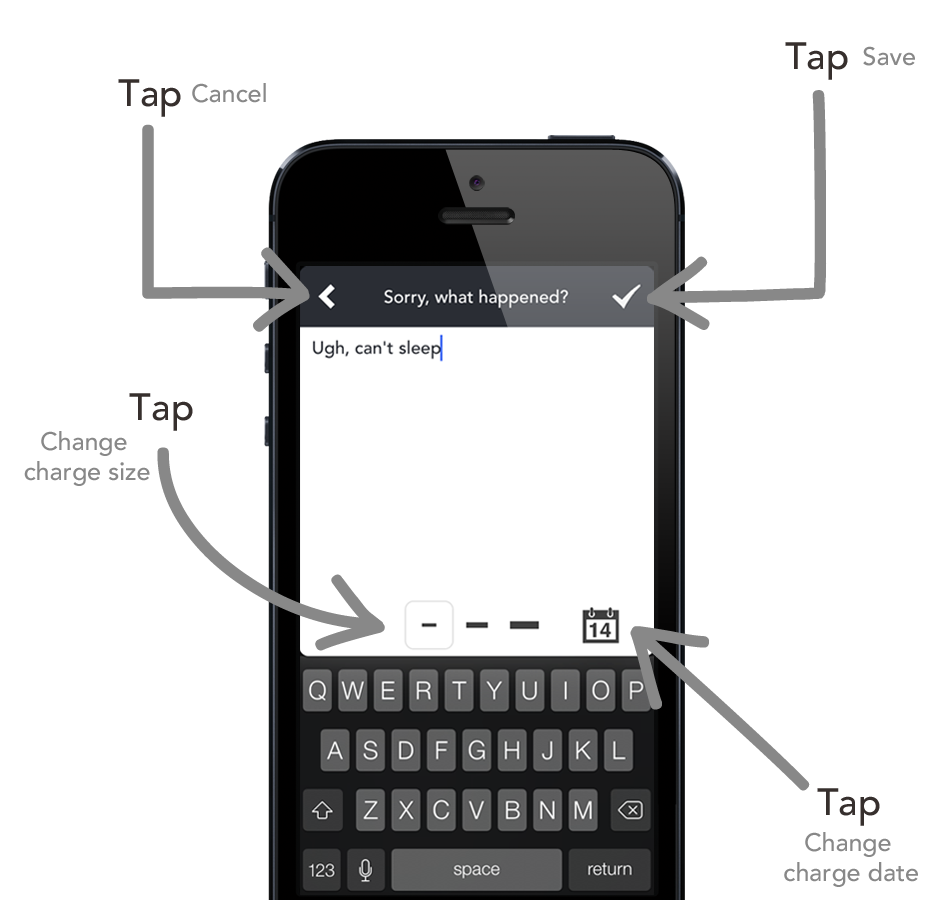 Tweets by @chargeapp