Quick Start Guide
Help! I'm stuck!
Still no luck? Rats! Well then, here is a three step program to get you going.
3. Contact us by going to our support page, and clicking 'Contact Us'
Screen Guide
The home screen is where you can start sifting, and monitor progress of the sifting process. Additionally, you can create new inputs and outputs by dragging files and folders into the respective input (green) and output (white) areas. Note that only the first 5 inputs and outputs are displayed on the home screen.

Using the configure screen will allow you to add the inputs/outputs you want via buttons and menus. You can also use Drag and Drop on this screen by dragging and dropping various inputs/outputs onto the input locations or output locations lists.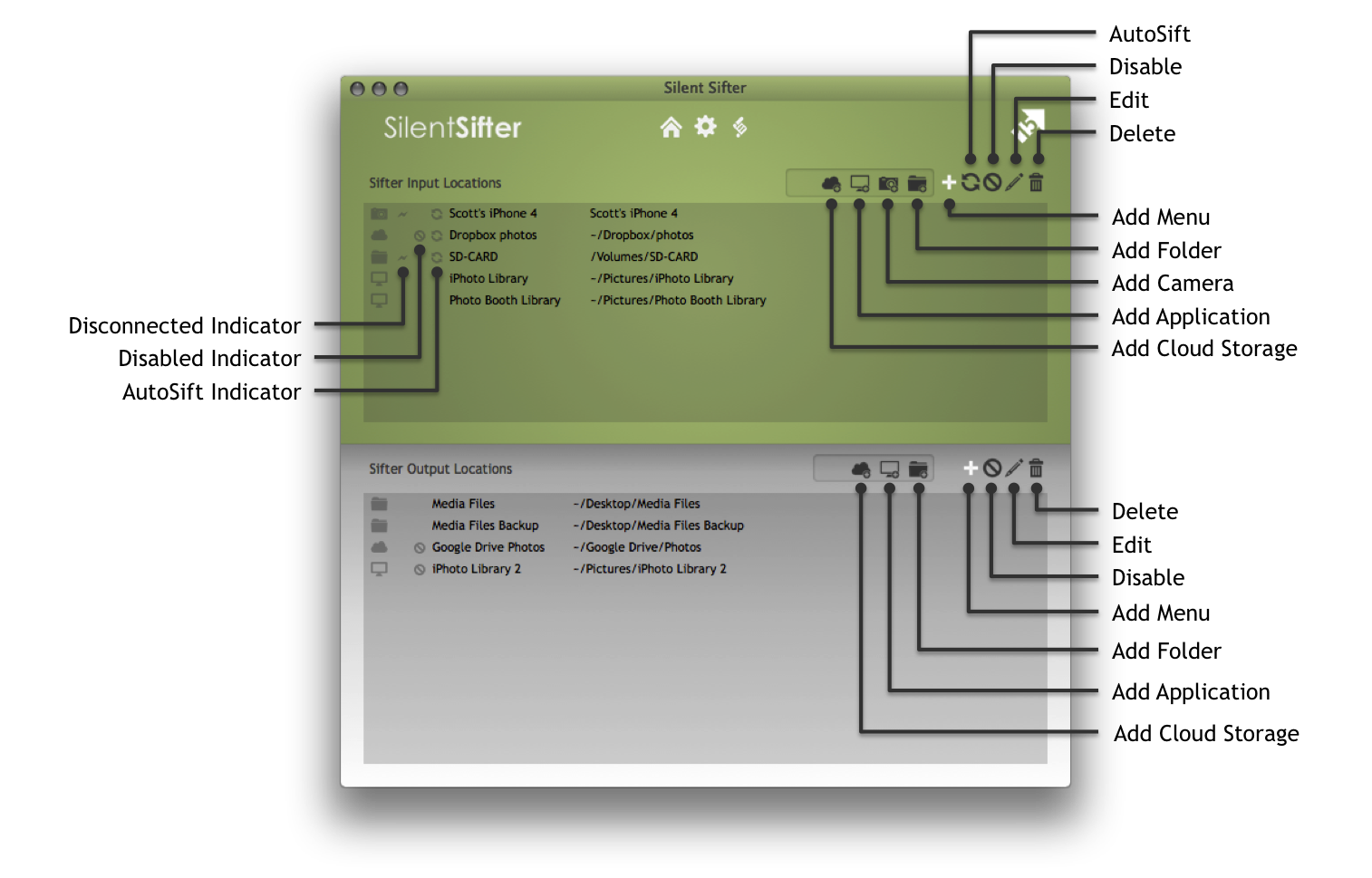 Using the history screen allows you to see what files have been processed in previous sift operations, how they were processed and why.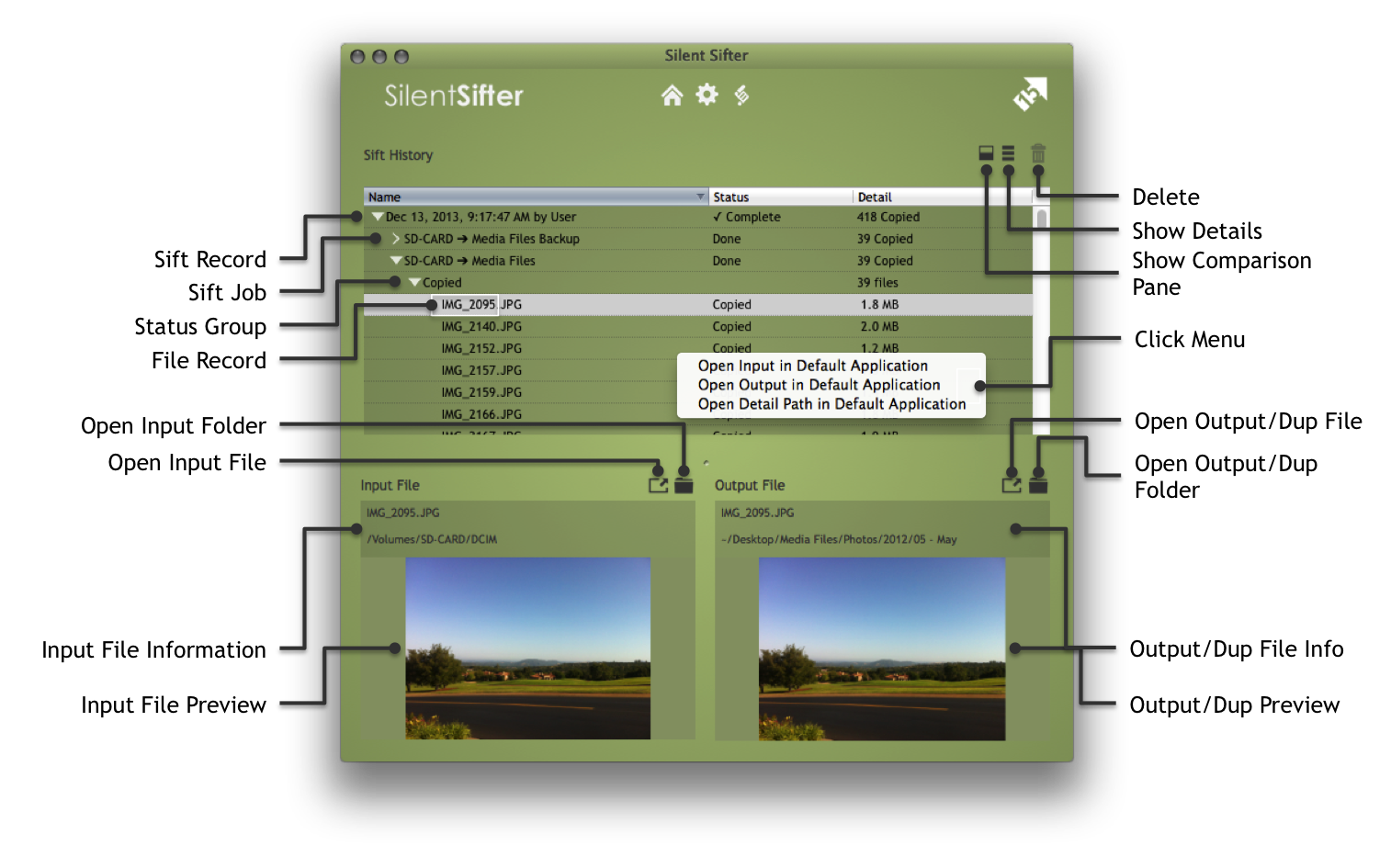 Using the advanced configuration screen allows you to customize how Silent Sifter interacts with a given location, including folder structures, file renaming, and filtering files based on their metadata. To enter advanced configuration mode press the edit button on the location menu from the home screen, or press the edit button after selecting a location on the configuration screen.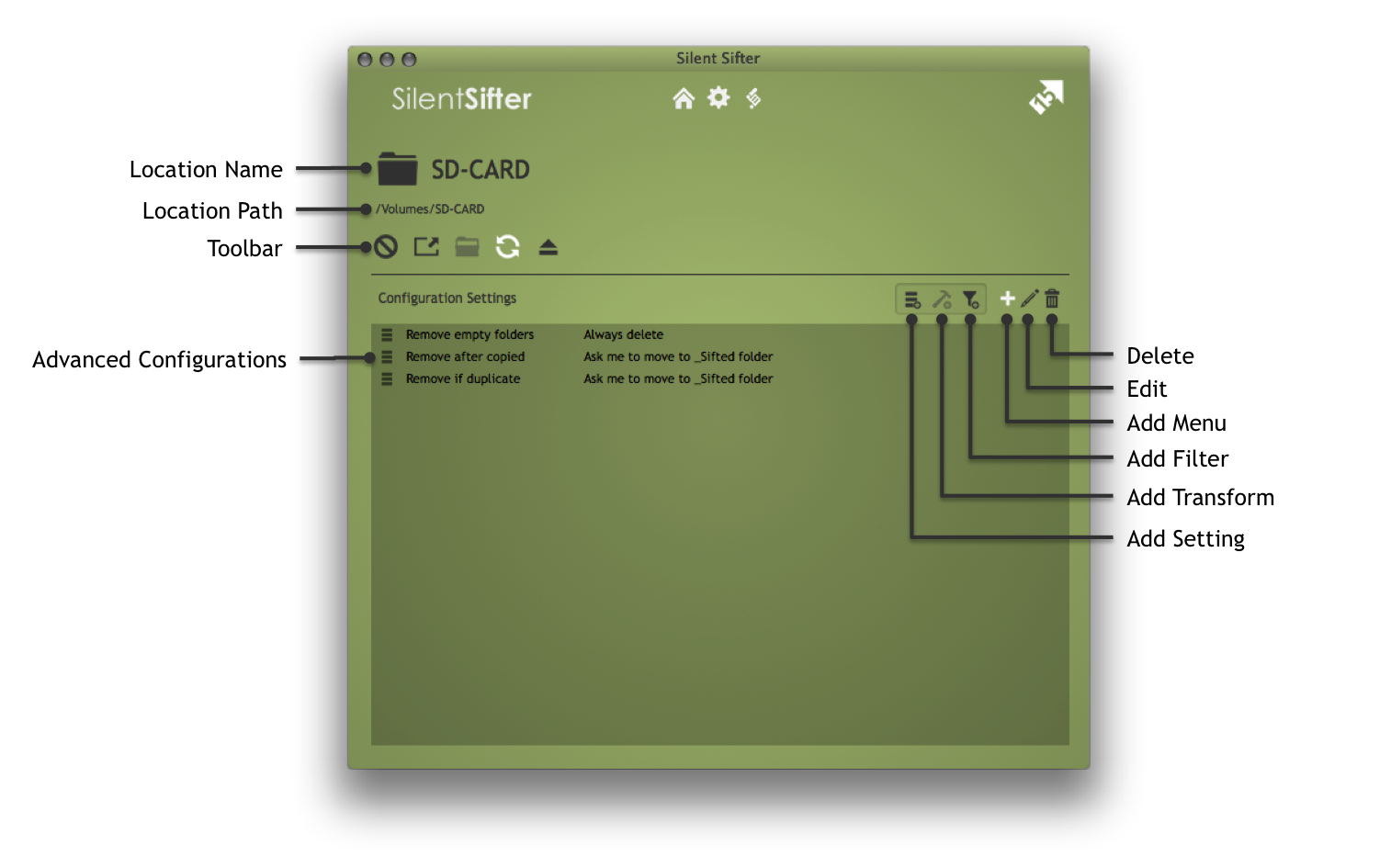 Removing Input Files
Folder Structures
Renaming Files
Filters
Tokens
Using the preferences screen will allow you to change global preferences for how Silent Sifter functions. Changing these preferences will have a significant impact on how Silent Sifter behaves, so please understand the ramifications prior to making changes.
The preferences screen can be reached by selecting the menu option Silent Sifter->Preferences…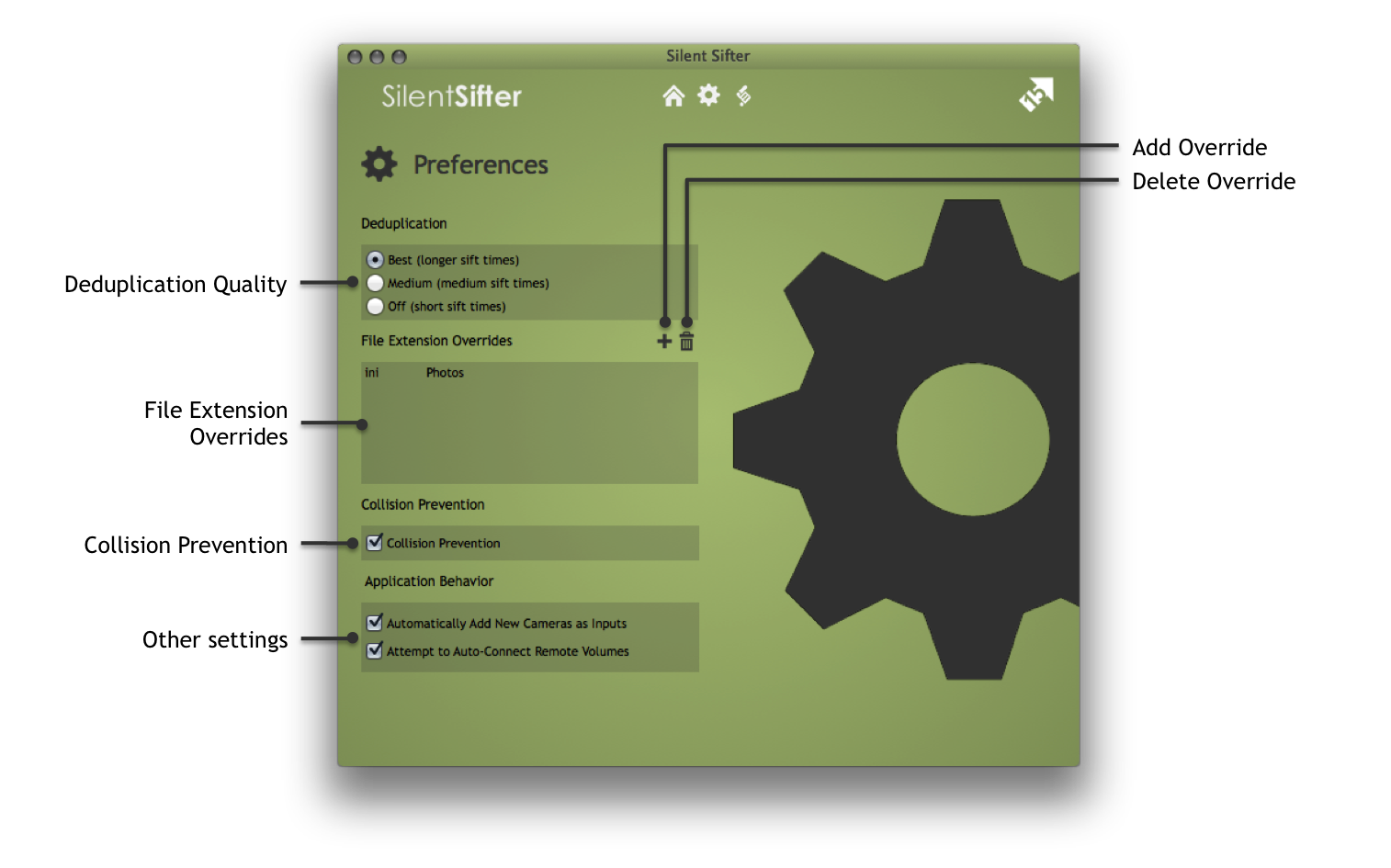 There is a status menu available along the top of the screen, which allows you to interact with Silent Sifter when it is running in the background.


Silent Sifter provides a standard Main Menu at the top of the screen while it is running, and is the active application. The primary purpose of the Main Menu is to provide a means to open Preferences, Help, and close Silent Sifter.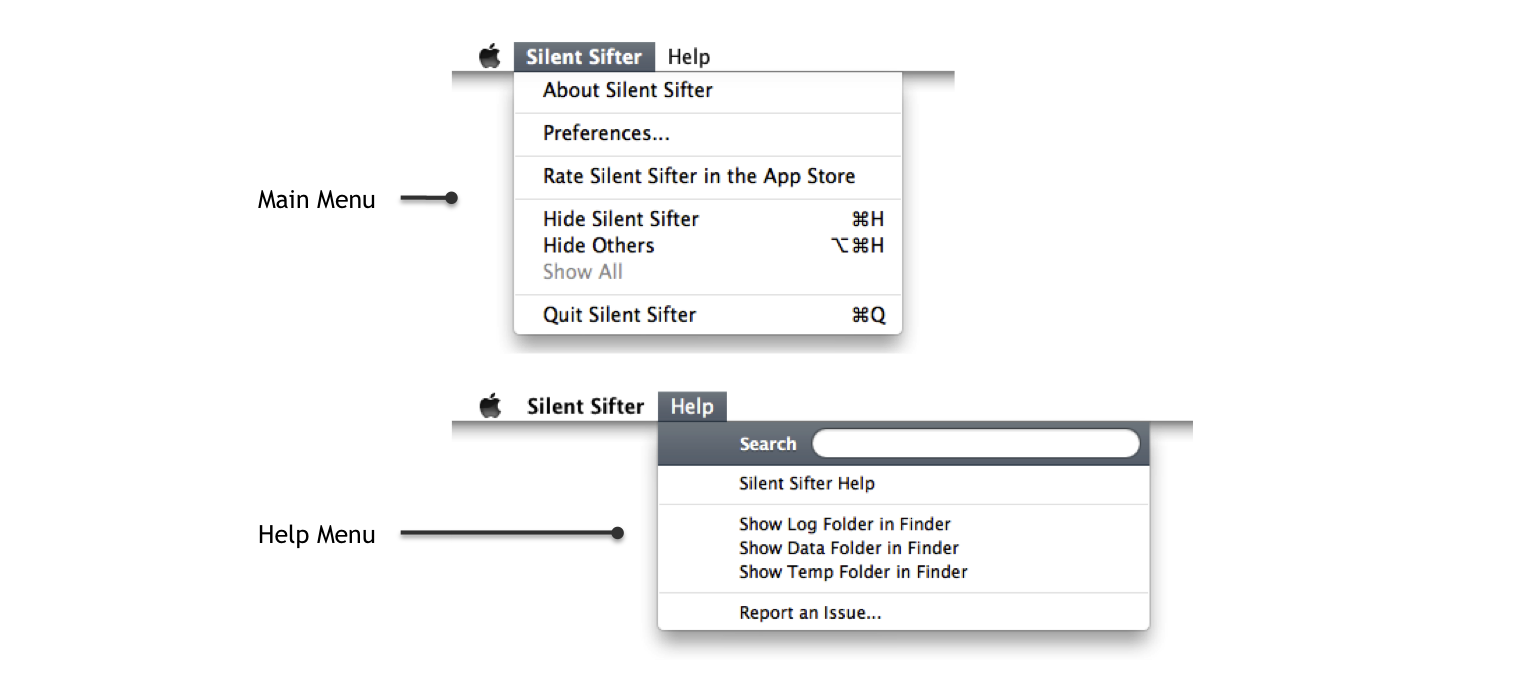 Input Locations

Output Locations